Your Guide to Conversion Rate Optimization (CRO) in Marketing and Why It's Important
Let's say you spend hundreds—maybe even thousands—getting your search engine optimization strategy ready. You identify a great keyword your target audience is Googling and your web page ranks spot 1. But once your potential customers click on your site, they get lost in a non-user-friendly experience and end up quickly exiting out. In other words, they didn't "convert" on the page how you would have liked. This is where conversion rate optimization (CRO) comes into play for a successful digital marketing strategy.
What Exactly Is CRO?
Conversion rate optimization is the process of improving your website's conversion rate. Of course, we first need to establish a conversion and a conversion rate.
A conversion is when a visitor completes a website's desired action. These actions can vary by website page or business. For example, a conversion can be signing up for emails, filling out a contact form, scheduling a demo, or even making a purchase. The percentage of total visitors who complete this action equals the conversion rate. Once you know your conversion rate through conversion tracking, then you can work to improve, or optimize, the conversion rate. A better conversion rate will result in more sales, customer information, or leads—all depending on what you want your desired action or goal to be.
Why Is CRO Important?
If "more sales or leads," didn't initially attract you, then maybe we should look at some stats. For starters, conversion rate optimization is important because the average ROI for companies using CRO tools is 223%. This is a staggering return for correctly targeting visitors and testing a website landing page.
While CRO has an incredible value, it becomes even more crucial because only 22% of businesses are satisfied with their conversion rates. Perhaps a large factor behind this is less than 40% of companies have a documented CRO strategy. Not only will a CRO strategy give you more sales and leads, but it will likely give you a leg up over your competitors.
How Does CRO Work?
CRO sounds great, but what does the process look like? What's the behind-the-scenes work for increasing conversions?
The CRO process involves three primary steps: gathering data through research, making a hypothesis, and testing how to improve the number of conversions. Testing encompasses the bulk of the work. And depending on the CRO professional, company, or tool, there are a few different CRO tests you can do. Most companies, including Helium SEO, primarily use A/B testing (also known as "split testing") or Multivariate testing.
A/B Testing
Between those two tests, A/B testing is the most common. This test compares two versions of a web page against each other where only one variable is different between the two. For example, one page (let's call it Page A) has a video that'll play as soon as a visitor enters a site. Then the same version of that page (called Page B) won't have a video. A/B testing will determine how visitors interact between the two versions and determine which page works best for that specific goal, such as subscribing to monthly emails.
A/B testing, however, doesn't even need to be this complex. It can be as simple as Page A having a call to action (CTA) button (like "Get a Free Quote") in the navigation bar whereas Page B doesn't have that call to action. Depending on your specific goal, the tests will vary. Surprisingly, small tweaks to a website like this can result in the biggest changes.
Multivariate Testing
Multivariate testing (MVT) takes A/B testing to the next level because it includes more variables. MVT tests a combination of elements within a single version. For instance, one version can have a pop-up video, call to action, and customer testimonials at the bottom. Then, MVT puts that version to the test against other versions with a different combination of elements. Yet, all of these different versions are tested against the control variant (the original version).
So, there can be several variants with several different elements within each one, making it a little more complicated than A/B testing. But multivariate testing is beneficial since a lot of ideas can run at the same time concurrently and you get insight into each added element. Companies might use this strategy just for relatively small testing arrays.
Whatever your conversion goal is, the CRO test and strategy will differ. That's why it can be a great choice to hire a CRO expert. They can play a role in every step of the process and ensure you're getting the best results.
Get monthly insights on SEO, SEM, and CRO that drive results.
Tools Used for CRO
Within the CRO process, there are a number of tools professionals use to gather data, form their hypotheses, and run tests. The most common include Google Analytics, Google Optimize, Hotjar, and OptiMonk. These programs allow you to determine the total number of page visitors, interactions, clicks, and then conversions. On top of that, you can use a heat map to actually see where website visitors interact the most and where any pain points are.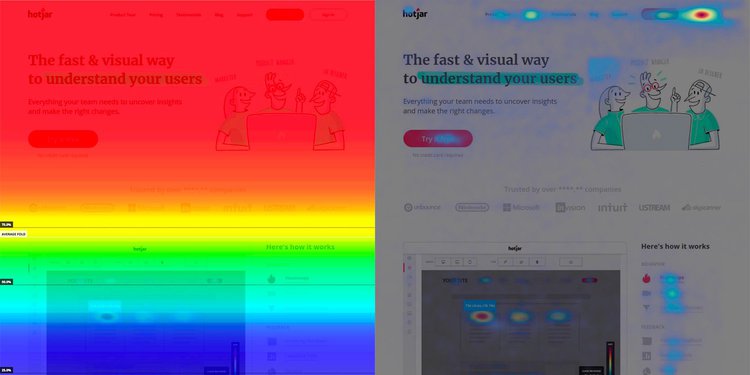 Obviously, a great benefit of adding a CRO strategy is collecting more data for your website. As any business manager knows, the more data you can garner from your customers and potential customers, the more you can improve customer satisfaction and identify sales leads.
What goes hand-in-hand with CRO tools is a CRO professional. Similar to hiring an SEO consultant, a CRO consultant will give you the best results. They're the ones with years of training and experience to implement meaningful changes. A CRO expert blends data-driven tools with a marketing eye to ensure a website's enhanced for the best user experience—and thus best conversion experience.
Calls to Action in the CRO Process
Another critical element to conversion rate optimization is implementing calls to action on landing pages. A call to action (or a CTA) is an encouragement for the audience to do something. You might remember this as an effective aspect of persuasive writing, such as "ask not what your country can do for you; ask what you can do for your country" from JFK's inaugural address. But CTAs have a prominent place in marketing too, because marketing is about encouraging people to act.
As for CTAs with CRO, these are messages on the webpage that will convert a visitor to a customer or potential customer. Frequently used CTAs are "Get in touch with us," "Contact us today," "Click for a free quote," "Purchase here," etc. Having a call to action, and—more importantly—having it on a prominent location on the page, is needed for conversion rate optimization. (If you're also curious for more CTA examples, you can browse this list of 50 calls to action "you can't help but click.")
How CRO Applies to Your Ads Campaigns
You might think CRO and CTAs are only needed for landing pages, but they also apply to online ads. Pay-per-click (PPC) ads try to drive traffic (and thus, conversions) to your site instead of earning organic traffic. And in order to get users to click on the ad's landing page, a call to action is probably needed. Look at the ads that come up when you search "women's jewelry":

Notice how Kendra Scott's ecommerce site uses calls to action to better entice visitors. Not only can customers "elevate" their jewelry box but they can get 15% off their first purchase when they sign up. Ads can only be as effective as their marketing copy is. That often requires good CTAs that'll convert.
The Ongoing Necessity of CRO
Like most digital marketing techniques, CRO is not a one-time process. There's likely always room for improvement with conversions. The average website's conversion rate is 2.35%, and even the best website's conversion rates are around 11%. So in a best-case scenario, almost 90% of your visitors still aren't converting how you'd like them to. That's a lot of potential, which is why it's important to never be complacent with your digital marketing strategy, primarily conversion rate optimization.
Additionally, you probably won't conduct one CRO test and implement one change to drastically enhance your conversion rate and it stays that high forever. That's unfortunately not how the digital landscape works. And it's not how customers work either. Users, searches, and behavior will always be changing. Meaningful—yet small—changes that happen incrementally over time are the best way to refine a website. It's our job as marketing experts or business owners to adapt to our clients and the times.
Elevate Your CRO with a PRO
(Notice that call to action?)
The reality in 2022 is that digital marketing is getting more complex, competitive, and crucial. The Search Engine industry is continuing to rapidly grow. In fact, its market size in the US has increased faster than the economy overall in the past five years. And the Search Engine industry currently boasts a market size of over 110 billion dollars. The online world is getting more saturated with data and content by the millions—if not billions—every day. If you want to stand out from your competitors, you need professional digital marketing services.
Get in touch with Helium SEO to learn more about how we can help you elevate (and convert on) your digital presence