A Brief & Helpful Overview to Pay-Per-Click (PPC) Advertising
When you search for something on Google, you'll come across two different types of results: an organic search engine result page (known as a SERP) or an ad. The difference between the two is that one page has been bought to be in that spot while the other earned it. By paying for Google advertising, marketers have the opportunity to appear above organic search results, as you can tell from the example below.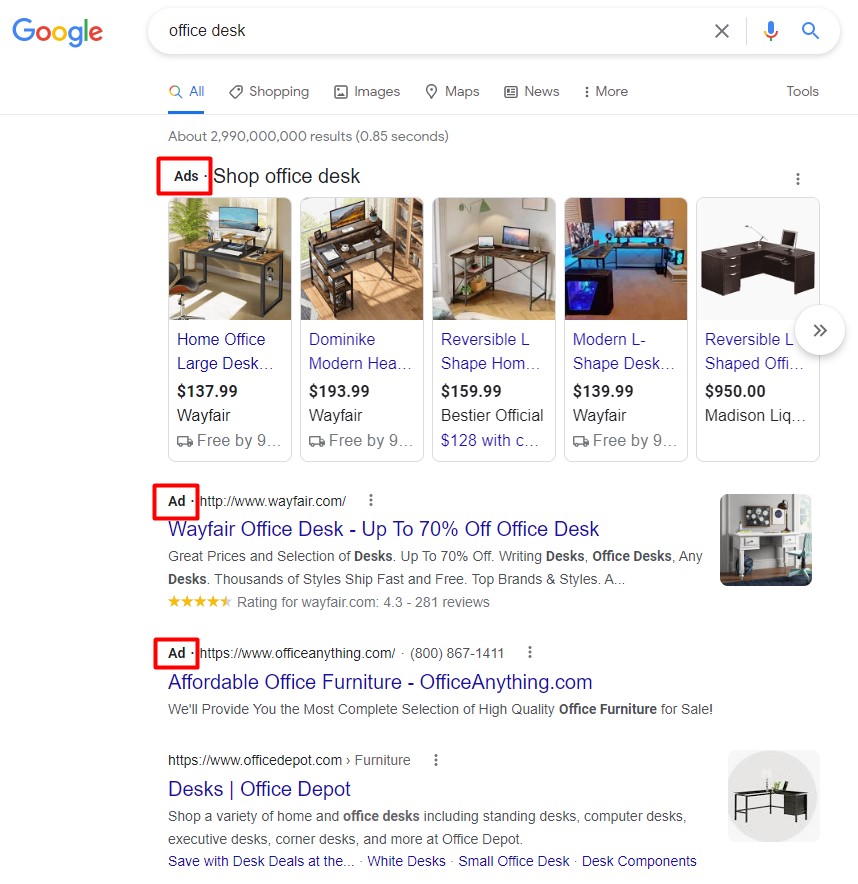 What Is Pay-Per-Click (PPC)?
A PPC ad is a digital marketing model where advertisers pay a certain fee every time one of their online ads is clicked (hence, pay-per-click). It's a method to get more leads and more traffic for less cost and effort than trying to earn clicks with high-ranking organic results.
Plus, PPC marketing is a way to get results much faster than search engine optimization (SEO). Generally speaking, it takes at least 3 months for a new website page to organically rank (i.e., appear) on page 1 for a Google search. And that's on the quicker side; most results take between 3-6 months. On the other hand, professional pay-per-click services can have your search ad live within 20-30 days.
What Types of PPC Are There?
While Google Search ads are the most common form of pay-per-click marketing, there are several other types of PPC ads and PPC marketing platforms. The different types of pay-per-click advertisements include:
Search – text-based ads on Google or Bing search results
Display – image-based ads on websites
Video – video-based ads on YouTube, which you can push to websites
Shopping – product listings on Google or Bing search results (also known as e-commerce ads)
Social media – image and/or text-based ads on social media feeds
Remarketing/retargeting – serving targeted ads to people who have already visited or taken an action on a website. There is display remarketing, which is the same as display ads, and search remarketing, which is also known as remarketing lists for search ads (RLSAs).
 Here are some examples of different PPC ad types:
The popular pay-per-click marketing platforms include:
Google Ads
YouTube Ads (a part of Google Ads)
Meta Ads (formerly Facebook Ads)
Instagram Ads (a part of Meta Ads)
Amazon Ads
Microsoft Ads (formerly Bing Ads)
LinkedIn Ads
Twitter Ads
TikTok for Business
Snapchat for Business
Of the platforms above, Google, Meta, and Amazon accounted for over 60% of the PPC digital advertising space in 2021. The triopoly—as the three tech giants are endearingly called—is forecasted to steadily continue its market share against the other platforms. So, entrusting either (or all) of the three companies with your ad campaign is likely a meaningful investment.
Get monthly insights on SEO, SEM, and CRO that drive results.
How Do Google Search Ads Work?
Search ads send users to a company's website or landing page just as an organic listing would. When a user performs a Google Search, what they are searching for is called a "keyword." This search query generates results, with the top few results (typically the first 3 results) being opportunities for paid ads.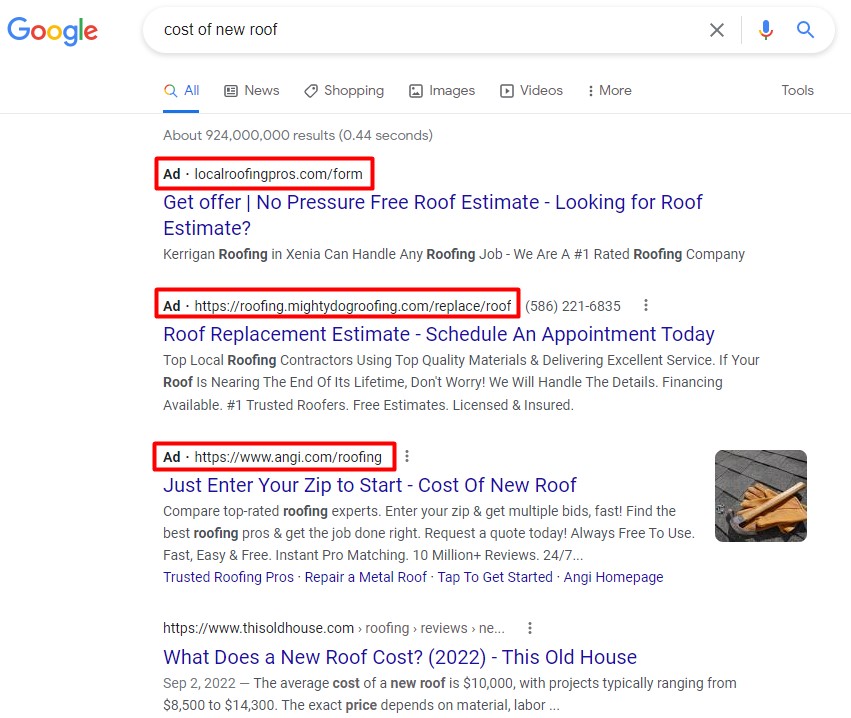 In this example, we see three ads above the first organic result. The top ad (localroofingpros.com) is in position 1, the middle (roofing.mightydogroofing.com) is in position 2, and the bottom (angi.com) is in position 3. Thisoldhouse.com is the highest-ranking organic result. 
Keywords are essentially up for sale for every search, and marketers will bid on keywords. Bidding in this case specifically means how much you will pay if someone clicks on your ad. The cost per click (CPC) of a Google Search ad can vary, but the average in 2022 is $1 to $2. 
Having the highest bid doesn't mean you will win position 1, 2, or even 3. A combination of several factors determines your ad position—aka ad rank. These factors include quality score (a metric search engines give your ad), relevance, demographics, historic performance, bid adjustments, ad copy, location, and audience. Furthermore, the right combination can change month by month, day by day, or even hour by hour. 
Google and other search engines are always changing their algorithms for both organic results and ad results. This is one of the many reasons why hiring a PPC agency is crucial to getting an ad into those top 3 positions for a keyword. Marketing experts utilize industry knowledge, past experience, market research, historical data, and A/B testing to determine strategy. A proper strategy focuses on account goals, targeted keywords, and competition in the space. 
How Do Meta (Facebook) Ads Work?
Social media ads will obviously differ from search ads because there's no search query (i.e., keyword) to target from the start. Instead, social ads focus on the audience first. While each social media platform will have its unique characteristics with an ad campaign, Facebook's ad process provides good insight into the social ads model. 
Advertisers tell Facebook what audience they want to reach. This can depend on location, age, interests, shopping behavior, relationship status, connection to the company's Facebook page, and more. Then you can select an ad placement, where the ad will appear on the social feed. Placements can differ by the ad type or intention. For example, some are better suited for image or video ads whereas other placements are better for certain parts of the sales funnel. 
Then just like Google Search ads, there is a bid for each ad. When two or more advertisers want the same ad space, it goes to the social media platform's algorithm to decide who wins the space. In addition to the financial bid, Facebook will evaluate an ad by its estimated action rate (an estimate of whether a particular person engages with or converts from the ad) and quality. Once Facebook accepts it, then the ad appears on your targeted audience's feed and your social PPC campaign is underway. 
Elevate Your PPC Ad Campaign with Helium SEO
Did you know that for every $1 a business spends on Google Ads, Google "conservatively" estimates that they receive $8 in profit through Google Search and Ads? That's a 700% return on investment! 
But first, you need to optimize your ad to even have it appear on Google, Facebook, Amazon, or any of the other digital marketing platforms. And that's where the PPC advertising experts can help you. Contact the Helium SEO team to get started. 
Frequently Asked Questions (FAQs)
How do pay-per-click ads work?
Pay-per-click (PPC) ads are when an advertiser pays a fee only if their digital ad is clicked on the platform (such as Google or Facebook) on which they're advertising.
Are pay-per-click ads worth it?
Pay-per-click (PPC) ads are typically worth it. Google even estimates that a business receives $8 in profit for every $1 they spend on Google Ads. And,
almost 65% of people
click on Google Ads when they are looking to buy an item online.
Which is better: SEO or PPC?
Search engine optimization (SEO) and pay-per-click (PPC) advertising both have their pros and cons. SEO has results that last longer which continually drives traffic. Whereas PPC ads can be implemented much faster than SEO, but you have to always be participating in an ads campaign for online traffic. However, experts agree that SEO and PPC should be used in tandem with each other to help brands thrive in the digital age.