A staggering 86% of companies planned to move most of their operations to B2B SaaS software last year. Business customers are fully on board the SaaS train and many customer success stories show how SaaS B2B companies are serving modern businesses.
But as business owners, you probably feel like you're drowning in a sea of complex terminology. What are B2B SaaS companies? How do they differ from B2C SaaS companies? And how are B2B buyers supposed to find the best B2B SaaS tools for their business?
The Basics of B2B SaaS
B2B SaaS stands for business-to-business Software as a Service. As the name implies, this means that a B2B SaaS company sells cloud-based software, usually on a subscription basis, to other companies. The top SaaS companies aim to confront a company's pain points by providing a SaaS product that simplifies workflows. For a software company, this presents an opportunity to grow its SaaS software.
There are many areas where B2B SaaS products can help, including:
B2B SaaS vs. B2C SaaS
The main difference between B2B and B2C SaaS companies is that B2C offers products to consumers whereas B2B offers them to businesses. Both use the standard SaaS business model of providing a cloud-based service with a subscription. The different lies in the target audience.
Let's take budgeting tools as an example. Budgeting tools from B2C companies may help clients track their spending and manage their personal finances. Some may even help the consumer when tax season arrives.
By contrast, a B2B budgeting tool would be far more complex. It would likely incorporate hosted software and a data analytics platform that allows a company's accounting team to track spending across the entire business.
These aren't subtle differences. SaaS B2B companies serve an enterprise market with more complex trends. A SaaS provider focused on consumers tends to offer simpler tools. B2B tools are usually more expensive and complex, though they often have higher retention rates than B2C SaaS tools.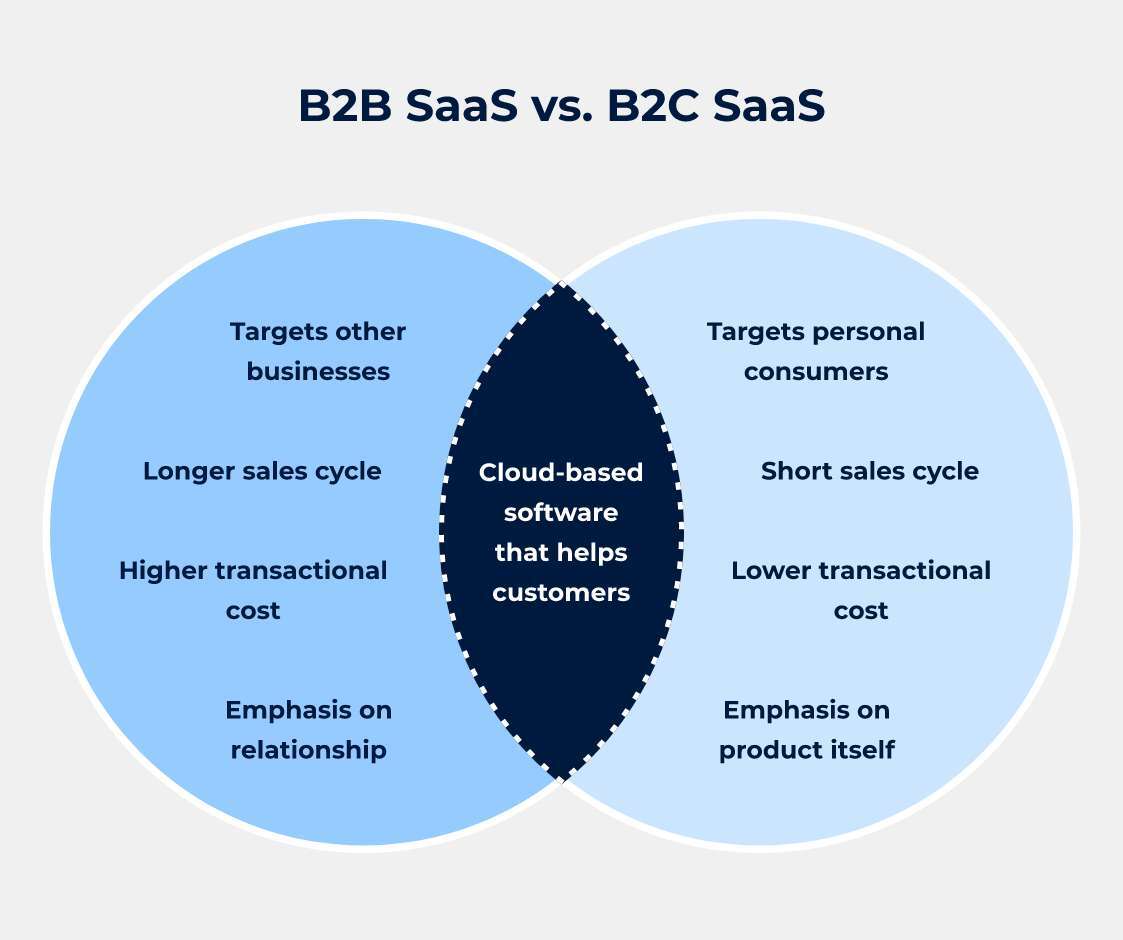 Evolution of B2B SaaS
The history of B2B SaaS starts with the emergence of cloud computing technology. With this tech, businesses could make use of software installed on off-site servers that were maintained by third parties. This was—and is—an attractive proposition because it means companies don't have to maintain their own servers. 
From the 1960s through to the late-1990s, businesses focused on individual ownership of their software. While there were benefits to direct ownership, maintenance costs, combined with the need to constantly update the software manually, created some heavy burdens. The rise of the dot.com era ushered in a new way of doing business. 
Online marketplaces began to spring up alongside technology enabling secure online transactions. The rise of dot.com led to the creation of cloud computing. But it took a while for B2B SaaS products to become accessible to business customers. 
In 1999, Salesforce launched its CRM as the first SaaS solution. While it achieved solid growth, many assumed computing technology evolved, SaaS changed from a niche way of accessing software to the main way enterprises choose to access end-to-end tools. 
Today, most businesses prefer SaaS products because they offer many advantages, including:
Recent B2B SaaS Trends
According to Gartner, the B2B SaaS industry will reach almost $600 billion in global spending in 2023. It also predicts growth of up to 40%, fueling further spender between now and 2024. Several B2B SaaS trends influence this growth.
By clicking the button above, you consent for Helium SEO to contact you at the email address provided.
10 B2B SaaS Examples
The SaaS business model is employed by some of the world's leading tech companies. The following are the top 10 B2B SaaS companies that have the largest market presence in the current environment (ranked in no particular order).
#1 – Google
Google currently serves over 6 million customers with its Google Workspace product. The software incorporates 15 productivity tools designed for businesses of all sizes.
Google is clever about niching, as it targets these tools to industries including real estate, manufacturing, and retail, in addition to specific departments within the companies that operate in these industries. As Google has become an everyday tool in modern business, transitioning to the company's services is a small step for most firms.
#2 – Adobe
With the introduction of Adobe Photoshop, Adobe took its first big step into the business software world. Today, it bundles many of its powerful tools into its Creative Cloud service. Boasting 26 million paid subscribers, Creative Cloud offers software along with free tutorials to help users get the most out of Adobe's products.
#3 – Shopify
Shopify fuels the growth of many small e-commerce businesses. Startups find its affordability, scalability, and customization options useful, leading to the service having a million users across over 170 countries. Shopify maintains a successful affiliate program, offering small business owners multiple ways to make money.

#4 – Microsoft
Microsoft's Cloud Solution Provider (CSP) program drives tremendous growth for the company. This partner-focused program has over 70,000 members, each of whom makes money by selling Microsoft's array of cloud services. These services include B2C and B2B SaaS products, such as Office 365, in addition to B2B-focused products, such as the Azure project management tool.
#5 – HubSpot
HubSpot is one of the biggest names in digital marketing for a reason. As inbound marketing experts, the company provides a range of SaaS tools focused on helping companies grow. Think of it as a marketing platform for the content creator who wants to achieve high search engine rankings. It's now a marketing hub for many B2B marketers.
#6 – Salesforce
The company that kick-started the SaaS revolution is still going strong. Salesforce reached a $10 billion revenue rate faster than any other B2B SaaS provider. Its all-in-one CRM platform incorporates sales, services, and marketing to make it one of the strongest customer-focused systems available.
#7 – Slack
Communication is critical in modern business, especially with so many people working remotely. While Slack seems like a simple chat tool at first glance, it's actually a powerful platform that has over 169,000 business customers. It leverages a freemium model to demonstrate its worth, allowing subscribers to scale up to the paid version once their companies grow to an appropriate level.
#8 – Mailchimp
Email marketing is still an effective digital marketing strategy. Mailchimp allows users to create emails, automate their delivery, and gather marketing campaign insights. It's no surprise that it has 16 million users, which accounts for over 72% of the email marketing sector.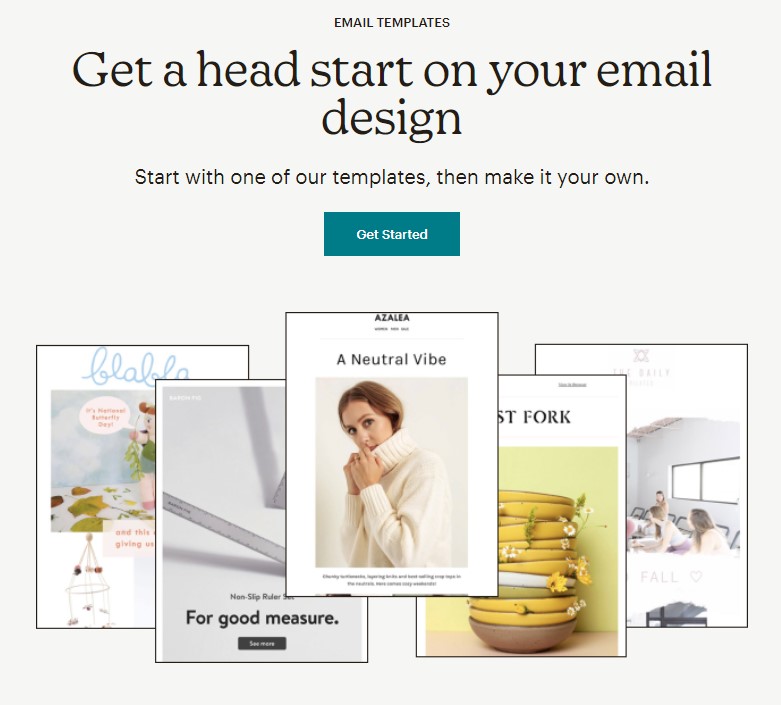 #9 – Dropbox
In an increasingly remote work environment, the ability to store documents and files in a shared space is more essential than ever. Dropbox caught onto this need earlier than most, and it offers a host of tools that allow users to collaborate on and share documents. It currently has over 700 million users and has become an essential project management tool. 
#10 – Xero
We mentioned earlier that the accounting sector is finally making a slow march toward cloud computing services. Xero is in the perfect place to capitalize on this trend. Established in 2009, the platform has over 3 million global subscribers who use it to manage products, pay invoices, and track payroll data.
Get monthly insights on SEO, SEM, and CRO that drive results.
How Helium SEO Plays a Role in B2B SaaS
Search engine rankings matter to B2B SaaS companies. With the SaaS market being filled to the brim with competition, getting ahead in the digital landscape boosts brand recognition and leads to more sales. 
Think about it like this. Business SaaS organizations leverage digital tools to provide services to their users. It stands to reason that they must use digital marketing techniques to get in front of those users. Organic search engine optimization (SEO) is one of the many strategies these companies use to fuel exposure and growth.
Frequently Asked Questions (FAQs)
What Is an Example of B2B SaaS?
An example of B2B SaaS is Slack. Slack's product helps other businesses alleviate the pain point of intra-company communication.
B2B SaaS stands for business-to-business Software as a Service. This is a type of SaaS company that focuses on helping other companies with their product or service—unlike B2C SaaS which helps consumers. Popular B2B SaaS companies are Google, Salesforce, and Mailchimp.