People sometimes want to oversimplify search engine optimization (SEO) and website management. If you just focus on making quality content, you'll have nothing to worry about. While this is partly true, the naïve sentiment ignores the strong reality that a lot goes into proper and effective organic SEO services.
One thing too many folks can ignore with their SEO strategy is keyword cannibalization. Some digital marketers may even tell you this doesn't exist, but the truth is keyword cannibalization is a real problem that can negatively affect your search rankings. Just ask us. The Helium SEO website recently experienced cannibalization firsthand, but we quickly corrected the issue to get our site back on track.
You can use this case study as a guide to learn more and as an example for identifying and fixing keyword cannibalization within your own site.
What Is Keyword Cannibalization within SEO?
First, let's briefly cover what keyword cannibalization is in regard to search engine optimization. Keyword cannibalization occurs when a website has two or more pages targeting the same keyword—i.e., search query. When multiple pages target the same keyword, they inevitably compete with each other and hurt a site's organic rankings.
Having multiple pages geared for the same keyword doesn't show Google your depth of knowledge or that you're the authoritative voice on the subject. Instead, it forces Google to evaluate your pages against one another and pick which one is best suited for that specific search. Unfortunately, Google sometimes won't pick the one you want to rank and alternatively select a different page.
SEO experts dub this "keyword cannibalization" because a website's page "consumes" another page from that same website within the search engine result pages (aka SERPs). And when you harm your own search results, you get fewer impressions, clicks, and thus conversions—which can range anywhere from email subscriptions to purchases.
Helium SEO's Keyword Cannibalization Case Study
Why tell you what keyword cannibalization is and why it's bad when we can show you? Let's dig into Helium SEO's recent cannibalization example.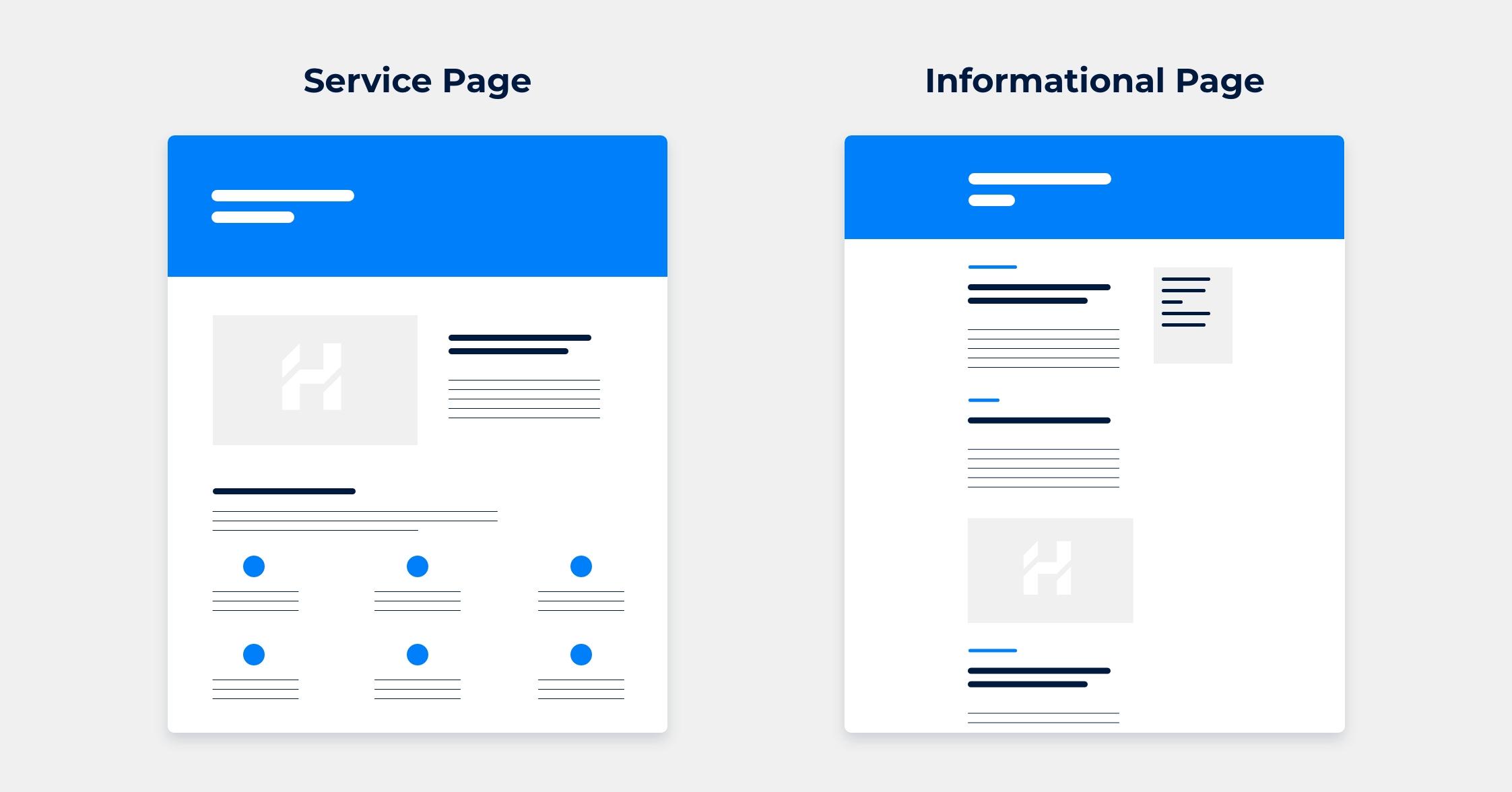 What Was Our Problem?
Less than 2 months ago, Helium SEO published its latest blog, "What Is CRO in Digital Marketing?" About a week after posting, we noticed it was ranking really well, specifically in the top 10 search results for its targeted keyword. (This is the kind of success we don't typically see for 3-6 months, so—of course—I had to have a celebratory LinkedIn post.)
Then almost 2 weeks after being published, the blog post fluttered in and out of the top 10 search results, which doesn't normally occur for high-ranking SERPs. So, it was clear that some form of keyword cannibalization was happening. We discovered the page it was competing with was our conversion rate optimization consulting services page. 
Essentially every few days Google would fluctuate between ranking the CRO blog page and the CRO consulting services page for our desired keyword (the search query "what is cro in digital marketing"). On days when Google ranked the blog, it thought it was good enough to rank in the top 10. But on days when Google ranked the services page, it didn't think it was as good and ranked it between spots 60-80. 
Needless to say, this isn't effective for good organic search rankings and online visibility. So we needed a way to "tell" Google how these two separate pages should be discerned and ranked. 
What Was Our Solution?
How do you let Google (and other search engines) know what your intent is with each website page and how separate pages view each other? How can you have pages communicate with each other for a proper SEO hierarchy? Aha! Internal linking. 
To stop our two pages from cannibalizing each other, we knew we could properly link between them to distinguish search intent—as in, is someone Googling for information or something transactional (like a product or service)? Our two pages had different intents so we needed to make that clear to Google and then the pages should stop competing with each other. 
Specifically, if someone is looking to learn about CRO (by searching "what is cro in digital marketing"), then the blog should appear. But if someone wants CRO services (by searching "conversion rate optimization consulting"), then the service page should appear. 
How We Implemented It
The process was simple enough: add an internal link on each page with anchor text to convey how we want Google to read the other page. 
Here's what we did with the CRO consultant services page:
For this, we only had to add one sentence that encouraged people to learn more and then linked to the blog page with anchor text for exactly what we were targeting: what is CRO in digital marketing. The added sentence itself reads naturally and doesn't take away at all from the service page, so it's a great SEO supplement. 
Meanwhile, the blog page had a tad more work than the service page:
We had to get rid of one internal link and then add another. In the first picture, the anchor text conversion rate optimization (CRO) linked to the consulting services page. In this case, this is a bad internal link because it doesn't correctly show the intent of the linked page. We inadvertently were telling Google that the service page was a place for information (instead of transaction).
So, we eliminated that internal link and then placed it later in the blog post with a more straightforward and advantageous anchor text: CRO consultant. Now, both pages are linked to each other while expressing what the other does. The blog page should be for informational search intent and the consulting service page should be for transactional search intent. 
Finally, for faster results, we requested indexing to both of our pages within Google Search Console. This notifies Google that our pages changed, so Google adds them to a priority crawl list. And once Google recrawls them, it is able to notice the updates and stop forcing our two pages to cannibalize the other. 

What Were Our Results?
Google's continuously crawling websites and its algorithms are also constantly updating. Because of this, website changes can have pretty quick results, especially for something smaller like our one instance of keyword cannibalization (as opposed to significant, technical site errors). Therefore, just a few days later, the Helium SEO team noticed positive results that have kept up.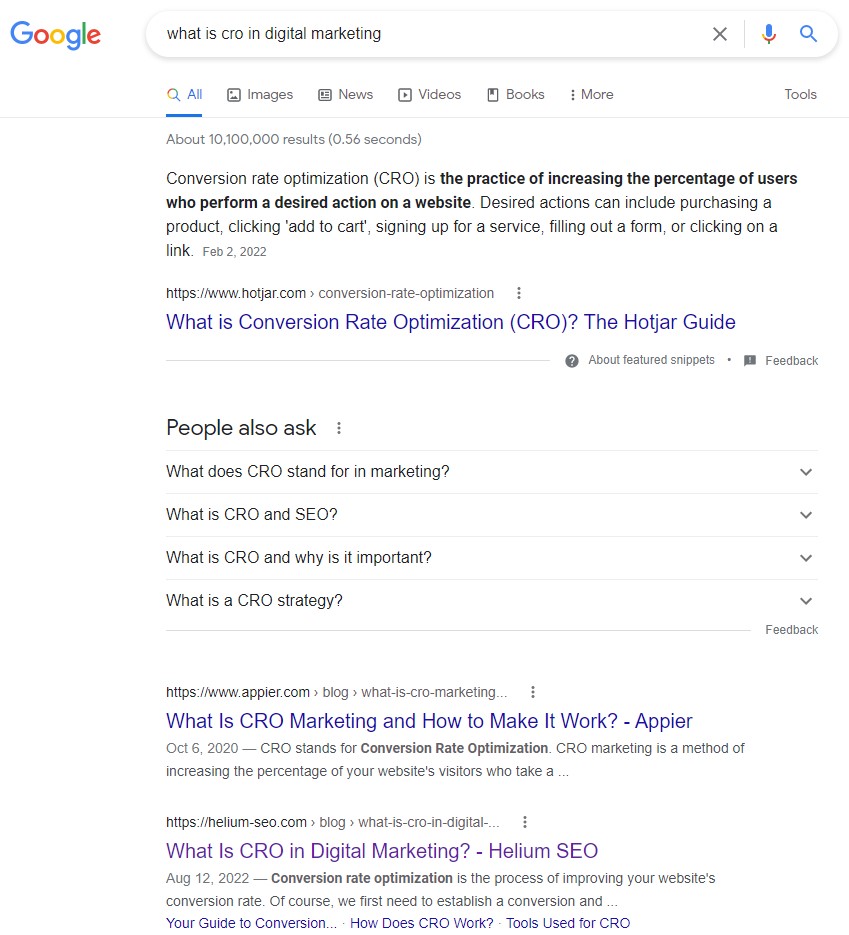 The CRO blog was back to ranking well for its primary keyword, and it now sits at spot #3. Better yet, it currently ranks in the top 10 for 6 other keywords. It even climbed to number 1 for "cro digital marketing."
In addition, the CRO consulting services page had a nice boost too. It currently sits in the top 10 for almost 20 different keywords. And since the internal linking changes were implemented, it's gone from ranking for 68 organic keywords to 84—an almost passive and effortless 24% increase.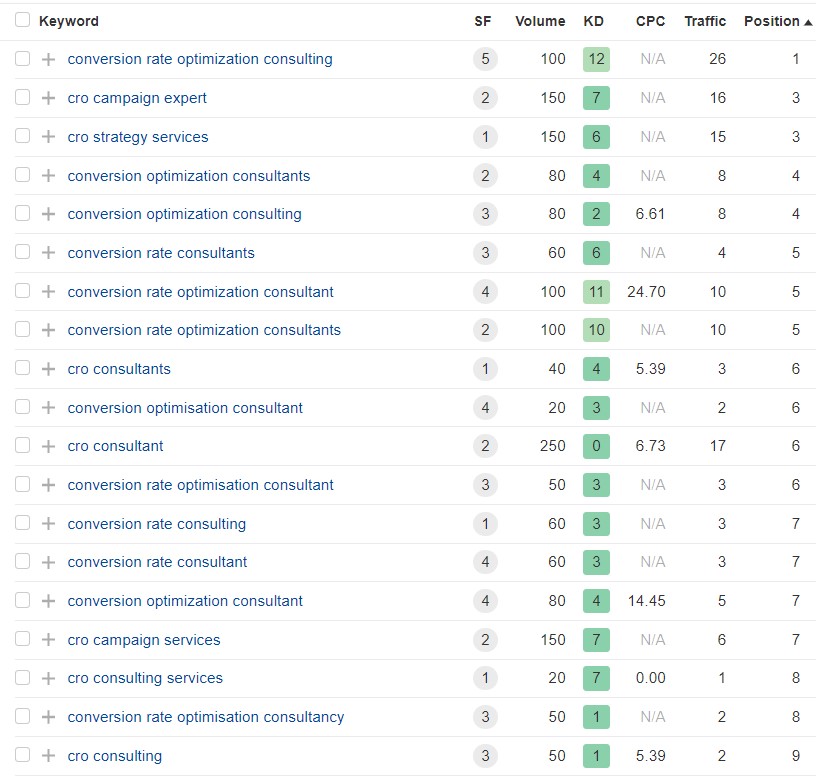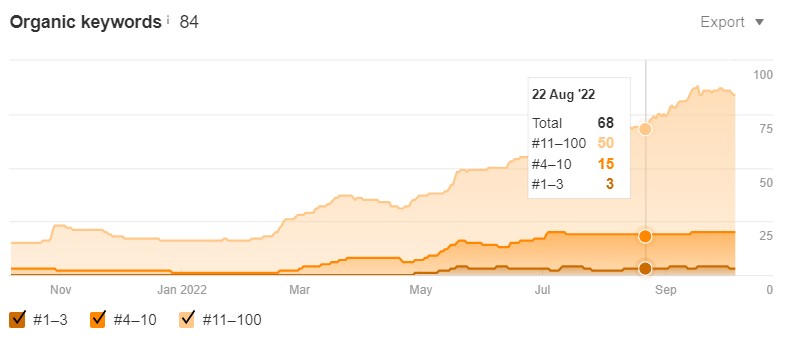 How to Identify Keyword Cannibalization
The best way to recognize keyword cannibalization is by pinpointing keywords you want to target and then periodically checking their rankings. You can either do this with a rank-tracking software (like Ahref's Keyword Rank Checker Tool or Semrush's Position Tracking Tool) or by manually checking keyword rankings. 
When you notice that some keywords or specific URLs are dipping in organic rankings, it can be worth investigating any potential keyword cannibalization issues. But don't forget that a dip in rankings can also indicate a Google penalty, a need to update the piece of content, increased competition, and more. 
Another key indicator for a potential cannibalization problem is a nested result. Google experiments with nested results to determine which page answers a user's question better and offers a superior user experience. Plus, it's apparent Google thinks both pages can potentially answer the search query, so each page is then competing for that keyword. 
How to Prevent Keyword Cannibalization
Keyword cannibalization isn't an enjoyable thing. It can severely hurt a website's organic traffic while simultaneously losing authority with Google. That's why all website managers need intentionality to prevent this problem.
What do we mean by intentionality here? Thorough and successful keyword research finds keywords that won't compete with each other. Producing quality content (along with no excessive duplicate content) shows Google your niche expertise and goal to provide a good user experience. And then finally technical SEO, especially with strong internal linking, ensures that search engines can read and rank your site as effectively as possible. 
Get monthly insights on SEO, SEM, and CRO that drive results.
Frequently Asked Questions (FAQs)
What Is SEO Cannibalization?
SEO keyword cannibalization (also just called "keyword cannibalization") is when a website has two or more pages targeting the same keyword, which results in Google having to evaluate the pages against each other and pick which one is best suited for that specific search. 
Is Keyword Cannibalization an Issue?
Yes, keyword cannibalization causes worse organic search rankings which can lead to fewer impressions, clicks, and conversions. It can also reveal authoritative and SEO problems to Google and other search engines. 
How Do I fix keyword cannibalization problems?
You can fix keyword cannibalization with strong internal linking or combining content from multiple pages to be on just one page (and adding a 301 redirect to the old pages).