Helium SEO Ranks Spot 679 on This Year's Inc. 5000
For the first time since the company was founded in 2017, Helium SEO is honored to join the Inc. 5000 2022 list. Inc. ranks America's privately held companies by overall revenue growth over a three-year period. Helium SEO ranks spot 679 on this year's Inc. 5000 list. Ranking 48th among advertising and marketing companies, Helium SEO is proud to now be recognized as one of the top 50 fastest-growing marketing and advertising companies in the nation. 
Inc. has recognized the fastest-growing privately held companies in the United States since 1982. The list began as the Inc. 500 and grew in 2007 to be the Inc. 5000, "giving readers a deeper, richer understanding of the entrepreneurial landscape and capturing a broader spectrum of success." The prestigious Inc. 5000 list cultivates a place where future household names first make their mark, including Pandora, Intuit, 7 Eleven, Microsoft, and numerous other well-known brands. 
Companies on the 2022 Inc. 5000 are ranked according to percentage revenue growth from 2018 to 2021. To qualify, companies must have been founded and generating revenue by March 31, 2018. They must be U.S.-based, privately held, for-profit, and independent—not subsidiaries or divisions of other companies—as of December 31, 2021. The minimum revenue required for 2018 is $100,000; the minimum for 2021 is $2 million. Helium SEO's Inc. profile—along with the entire Inc. 5000—can be found at www.inc.com/profile/helium-seo.
"We are thrilled to be listed 679 in this year's Inc. 5000 list. Tim and I founded Helium SEO to solve many of the problems we saw in the digital marketing space. Being on this year's list reflects Helium SEO's success in bringing this vision to life. Most importantly, it represents the contributions of all the amazing, hardworking people we have been fortunate to work alongside towards this vision."
"Helium is incredibly honored to be among the list of Inc. 5000 fastest-growing companies! This was a goal of Paul and mine for multiple years and we are so excited to be able to join the ranks of some great businesses. First of all, we thank God for this honor and blessing. I also want to thank our amazing team at Helium. Without them, none of this would have occurred. And I want to thank our many clients who are the true drivers of this success. Thank you for believing in us, working with us, and growing with us.

We are so excited for what is to come next. Our goal is to make the world of SEO a better place, and that means continuing to grow and serve more and more brands over the years to come."
Members of the Helium SEO Team Gathered Last Tuesday to Watch the Live Rankings Reveal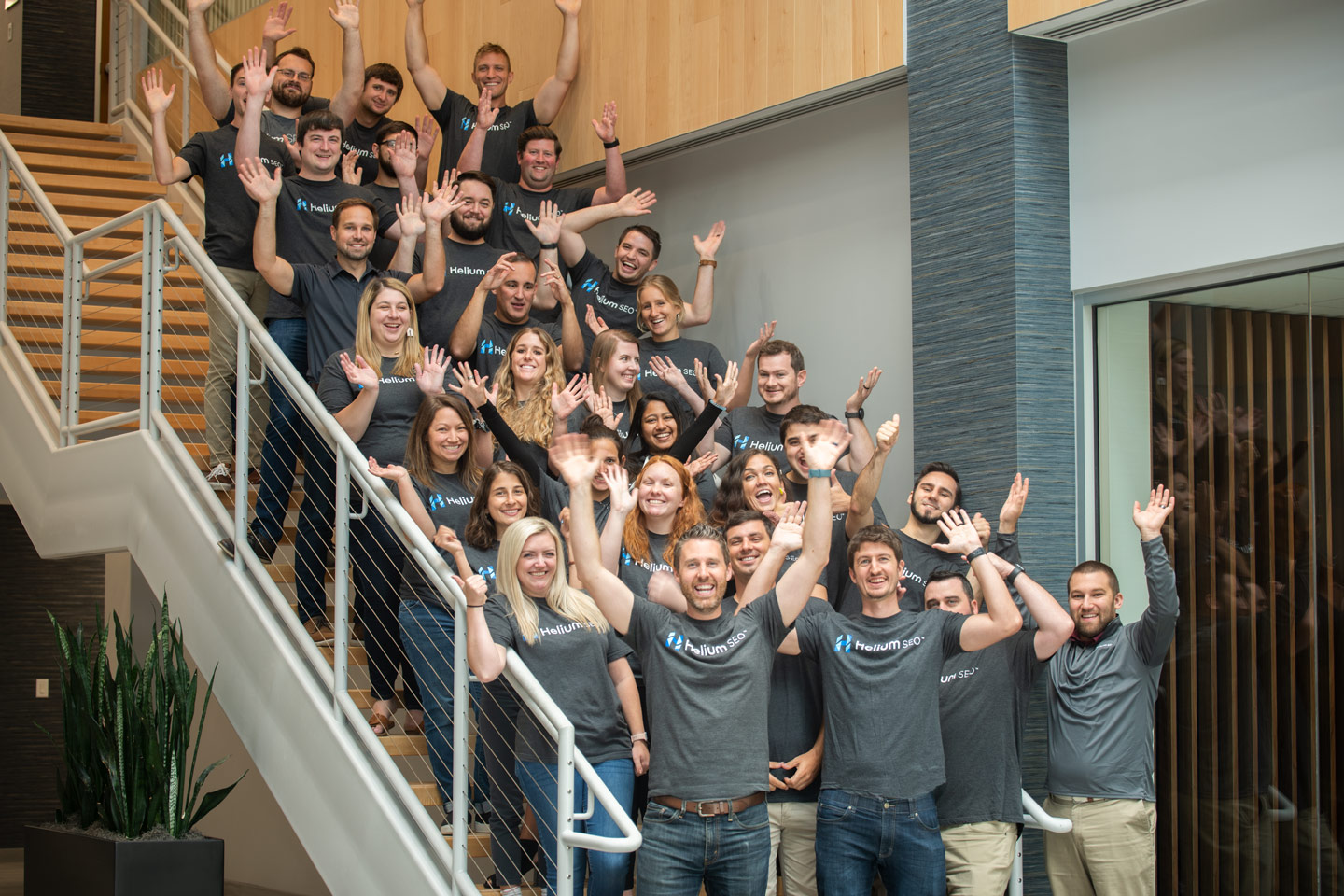 About Helium SEO
Founded in 2017, Helium SEO is a Cincinnati-based digital marketing company that uses artificial intelligence to increase the qualified leads generated by its clients' websites. With the addition of Helium Interactive to the Helium family, the privately-owned company builds SEO-powered websites from the ground up and employs over 60 full-time employees, with representatives in 13 states (Ohio, Colorado, Indiana, Alabama, Michigan, Florida, Utah, Texas, Illinois, Georgia, South Carolina, Arizona, and Kentucky). For more information, visit www.helium-seo.com, get in touch with us online, or call 513-563-3065.